When moving into a new country, it is necessary to have adequate knowledge of the banking system prevalent in the nation. Managing investments and protecting the earnings is a concern for immigrants. Owning a bank account is the best possible way to manage your money, be it daily expenses, rent, or college fees. If you are enrolled for a job, then also a bank account is necessary for crediting the salary. A banking system is, therefore, essential for the proper management of finances.
Various kinds of Australian Banks
The banking method in Australia is quite advanced and competitive. It comprises multiple local banks as well as branches of other foreign banks. The branches of overseas banks are also a part of the arrangement. New South Wales Bank was the oldest in the country that started the banking system in Australia back in the 1800s. In the present day, the nation is home to four primary banks that dominate the banking system.
The 4 Giant Banks
In order of market capitalization, the four largest banks of Australia are listed as:
1. Commonwealth Bank of Australia (CBA): 141.4 billion AUD
2. Westpac Banking Corporation (WBC): 58.4 billion AUD
3. Australia and New Zealand Banking Group (ANZ): 48.1 billion AUD
4. National Australia Bank (NAB): 4.8 billion AUD
These big banks can take over other smaller contenders in the market. But the four-pillar strategy of the Australian administration ruled out in 1990, bars these banks to make any mergers among themselves. Many debates show that the policy can be a hurdle towards Australia's economic growth.
Regional banks
Other than the 4 big names, there are multiple smaller retail banks present in Australia. The local banks are mostly limited to certain areas in the country. Bank of Melbourne, Bankwest, Bank of Queensland, Adelaide Bank, St George Bank, and Suncorp-Metway are some known names among the retail banks in Australia.
Clent-owned banking unions
One can also see the concept of the mutual banking system. Under this system, the clients of the banks are mutual holders of the bank shares. Collectively there are over four million customers of these banks and the cumulative assets of the customer-owned associations amount to 130 billion AUD. 10 such member-owned banking associations have huge assets. The one with the highest asset is the CUA that provides banking as well as insurance facilities to the members. Other popular member-owned banks comprise Heritage Bank, Bank Australia, People's Choice Credit Union, and Teachers Mutual Bank.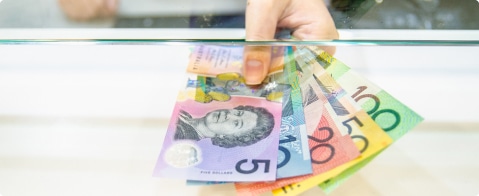 Foreign Bank offices and branches
The operation of foreign banks in Australia is governed by the Banking Act. All foreign banks should get a banking right from the ARPA before they start providing services in Australia. A foreign bank can open a branch or serve as a subsidiary. In case, these banks do not want a banking authority they will be permitted to function as representative offices only. Such offices have multiple constraints and cannot indulge in any profit-making activities.
How to access banking services in Australia?
Most banks and their branches have offices working all five days a week from 9:30 in the morning till 4 in the evening. Many banks operate on weekends as well. All banks have ATMs spread across all cities to help customers withdraw their money whenever they want. These ATMs function 24 hours and all seven days. Some even have the facility to deposit money into the account.
The banks in Australia use all modern technologies for providing online services to the customers for their convenience. Internet banking lets you open accounts online, transfer money to other accounts, make payments, and much more. You won't have to visit a branch for these services.
For those of you looking for cashless payment methods, there are cheques, credit cards, and debit cards. The EFTPOS technology is also popular as it lets you pay directly from your bank account by connecting with your debit card and using a simple four- or six-digit PIN. Withdrawing money from certain shops or gas stations is also made possible with EFTPOS.
Popular Money Tools in Australia
Having a software application on the phone or tablet makes it easy to access the bank account and do transactions. Managing finances is also simpler with online money tools. There are several tools you can choose from. Here are some of the best ones that have been stood out in the market:
Up:
It is a digital bank backed by the retailing Adelaide Bank. You can use this to transfer money or simply view the bank balance. There are no extra monthly charges and you even get a 10 dollars bonus on opening a new account.
Pocketbook:
It is an app for keeping track of all expenditures. The application is available for both Android and iOS users. The expenditures are all categorized for clarity. Sometimes manual categorization is needed which is then learned and applied by the app for similar future transactions. All your bank accounts can be linked with this app and you can view balance, transaction history, and other account-related information.
Hay:
This is a new online banking tool that is now open for signing up as a member. This online banking service is on its way to becoming an Australian bank. The app can be used for effective money management from the comfort of your home with just your mobile phone. The app gives you tips on how to handle money when you travel outside the country.
Douugh:
If you want to manage your payments and keep yourself updated with all the transactions you make, Douugh has got the perfect set of features to help you. The app is enabled with a personal assistant powered by artificial intelligence that gives you insights into better management of finances.
QPay:
Initially, it was launched for helping students with finances. The Mastercard of QPay is a useful card for payments. There are no extra fees to be paid. The app is designed for bringing banking to Millenials.