People working or living in Germany need to know about the banking system prevailing in their country. The reason could be anything. Either they want to open an account for salary or daily expenses, etc. They would need a proper banking system in Germany. After the financial crisis in 2008, the German banking system has improved.
Banking System In Germany
The baking system in Germany is bifurcated into three categories. This Three Pillar Banking system of Germany is unique. This pillar contains three kinds of banks – public savings banks, private commercial banks, and cooperative banks. There are a lot of banks falling under the category of these three banks.
What Are Public Savings and Cooperative Banks?
These banks are focusing on small investments. They support medium-sized businesses. Every bank falling under this category works as a separate entity. These cooperative banks also follow small and simple business models. They deposit the money of the people and give a loan when needed. These banks have a rule. They only give loans to those people who belong to the same district as the bank.
The two biggest public savings and cooperative banks in Germany are-
These banks are in direct link with the political communities. Sparkasse banks represent approx 15% of the country's total banking assets.
What Are Private Commercial Banks?
These banks are offering daily banking services to the people in Germany. These banks help people to process the payment, provide a loan, etc. They also help in managing real estate, wealth, and investments. The banks falling into this category are:
Targobank
ING
Deutsche Bank
Commerzbank
Postbank
In other words, these banks can be called universal banks. These private banks are in the market in Germany for more than 200 years. The government is responsible for this bank's management.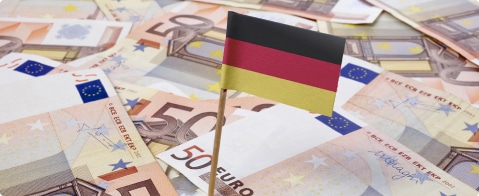 Other Popular Money Tools In Germany
In Germany, people use various other money transfer tools. These popular money tools are used for receiving or transferring money. Some more popular money tools are:
Direct Online Mobile Bank
Online person transactions are increasing these days. Not only Germany but other parts of the world are also getting the benefits of online money transferring tools. Various online banks are increasing in Germany. People in Germany are using more online transactions with the help of online banks. These banks have low operational costs and customer support service costs. Some popular online banks are Tomorrow Vivid, N26, DKB.
These bank accounts are specialized bank accounts. People who are applying for permanent residency in Germany can use these accounts. In this account, the account holder deposits the money. The holder can withdraw the money every month in installments. This is the only reason it is called a blocked account. Anyone can open this account. People can show their association with Germany with the help of this account.
International Money Transfer
These international money transfers involve funds transfer to and from Germany. These online transferring allows the fund's transfer to companies as well. The money transfer requires some extra funds transfer also. The government helps you to transfer the money within the country. You can transfer the money to another person without the involvement of banks. In this way, the high transferring rates are deducted. Various companies are offering much lower transferring rates in Germany. These companies are – Currencies direct, XE, transfer wise, azimo.
Bank transfer is the most common method people use these days. A lot of banks are offering foreign exchanges. These banks are allowing people to transfer money in any part of the world. Banks are charging a small transferring fee to transfer your money from one place to another. There are high exchange rates at which you can transfer the money.
This service is very famous everywhere. The receiver can pick up the cash from any physical location. All you need to do is send money to any person in their bank account. They will send the money to a physical location. You can pick up the cash from there. This method was famous when there were no heavy bank transactions allowed. You pay someone in the bank, another person would receive it in cash from the nearest location.
This technology is very famous these days. You can carry the money in your mobile apps. Use as and when required. Mobile money is a great alternative to cash. It is quite easy to transfer and a secure way of transactions. This money can also be converted into any currency you want. You can use mobile money for shopping, eating, and many more things. Mobile money is a secure way to carry your money. Various apps allow you to transfer money.
Credit cards are very famous in Germany. Many banks are offering credit cards. You can also get a credit card from any supplier or company too. Credit cards allow you to do the transactions without charging an annual fee. You need to pay a certain amount of interest to your credit card supplier. This method is gaining huge popularity in Germany. Credit cards allow certain discounts on the various transaction you make. For example, if you are shopping from an online site using your credit card, you will get a certain discount, etc.
Conclusion
There are various ways to transfer money. People in Germany or any other part of the world need to transfer money from one bank to another. In Germany, there are various ways apart from banks through which you can deal with money. The three pillar banking system in Germany is allowing people to deal with monetary transactions in a great way. After the financial crisis of 2008, Germany's three-pillar banking system has played a huge role in the country's growth.
You can also transfer money to use various popular money tools in Germany apart from the banks. All these tools are mentioned one by one. You will also get to know how to use these tools in your daily life. Money transfer has never been this much easy in Germany.