If you are a doctor and you are looking for a place to work outside of your country then Canada might be your best option. Like every country in the world, Canada is in need of more and more doctors right now.
The highlight of Canadian immigration is the added benefits. You will enjoy the advantages of extended health care, life insurance, pension plan, counseling services, paid vacation and holidays, and even accidental death and dismemberment insurance. Along with your personal benefits, your family will also enjoy the full family benefits including a health and dental plan and free primary and secondary schooling.
So, isn't it great? Why not just move to Canada as a practicing doctor? Not to mention the pay of a doctor is also quite well. You will be able to lead a high-quality life in Canada as a doctor under Canadian Immigration. Now when we know that it's beneficial to immigrate to Canada as a doctor let's find out the formal process of Canadian immigration for doctors.
Step 1- Plan Your Immigration
Before taking action you need to have a plan in place. Where do you want to live? What area do you want to work in? and similar basic questions must be answered first. Once you have decided you finally want to immigrate to Canada prepare a concrete plan and then proceed.
Step 2- Become Eligible For Canadian Immigration For Doctors
For being an eligible candidate for Canada you will have to-
1. Secure a medical degree from a University included in the World Directory of Medical school- You can check the name of your institute on the official website of the World Directory of Medical school.
2. Get an Education Credential Assessment from the listed institutes including- Comparative Education Service – University of Toronto School of Continuing Studies; International Credential Assessment Service of Canada; World Education Services; International Qualifications Assessment Service (IQAS); and International Credential Evaluation Service.
3. Qualify the Licentiate of the Medical Council of Canada- For this, you need to pass the 2 MCCQE exams. Part one can be given from anywhere but for attempting part 2 you will be required to travel to Canada.
4.Pass the 1-year post-graduate program offered by the medical authority in the province of your choice.
5. Acquiring a certificate from either The Royal College of Physicians and Surgeons of Canada or College of Family Physicians of Canada or The College des Médecins du Quebec
Furthermore, you will be asked to pay the required fees for the various applications.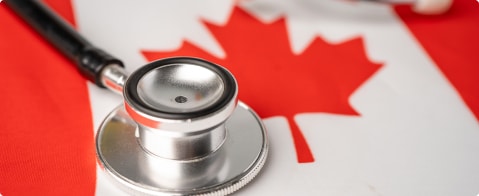 Step 3- Find A Job In Canada.
Once your documents are ready you are ready to find a job in Canada. You can not confirm your immigration until you have a job. Some immigration programs even require having a job. However, you can move without a job as well, but it is a more secure option to get a job first. If you will have a job before immigrating to Canada, then you can focus on other aspects such as living arrangements.
Step 4- Research And Select Your Immigration Program
There are several immigration programs to choose from. Immigrating to Canada is a huge life decision so you have to be careful with this step. It is best that you thoroughly read about all the immigration programs and then make a wise decision.
The two most commonly used immigration programs for doctors are the Express Entry system and the Provincial Nominee Program.
Express Entry System
For applying under the express entry system, you will have to qualify for the language tests first. In order to immigrate to Canada as a doctor, you must be proficient in English so that you can smoothly communicate with the patients. You will also have to check your eligibility and then produce the required documents for the Express Entry profile. It is an intriguing score system where your profile will be ranked based on the information you provide about yourself. If you are eligible then you're your profile will be accepted.
You may also receive an invitation to apply for permanent residence. You will receive this only if you are one of the top profiles amongst all the applicants. This is where having a secures job helps. Even if under the express entry system it is not required to have a job before immigrating to Canada if you have a job your chance of getting the invite increases.
Provincial Nominee Program
Under this program, you will need to select a province first and then apply to the skilled worker's stream of that particular province. There are two methods to apply under the provincial nominee program. You can either submit a paper-based application or you can submit your express entry profile. In both cases, you will be required to pass the minimum eligibility criteria set by the selected province. A medical exam and a police check certificate are compulsory under this program. Remember if you want to live in the province of Quebec then you will have to apply fr a different immigration program. This specific province does not come under the Provincial Nominee Program.
There are other options such as Quebec- selected skilled workers, Healthcare workers permanent residence pathway, Family sponsorship, etc.
Step 5- Wait For The Response
Once you have submitted the application you will have to wait for the response. If you have used the paper-based process then it will take some extra time. The express entry system is comparatively faster and more convenient.
Canadian Immigration for doctors is designed to encourage more and more doctors to move to Canada. With the added benefits and a simple immigration process, it is tempting for newly graduated doctors to immigrate to Canada. Canada offers numerous job opportunities for doctors and you can explore more once you are in the country. Just remember to secure all the required documents and apply for the best-suited immigration program for you.