Regardless of which part of the globe you reside in, there are so many architectural sceneries to be seen and astonishing places to be appreciated. While traveling is a dream of many, but few can pursue it whole-heartedly.
All of us, occasionally, get excited to plan trips and searching places on the web. But the enthusiasm gets wiped off by the confusion of 'what' and 'where'. There are thousands of incredible destinations for touring and it is not possible to list them all. However, we have assembled a list of some of the best tourist destinations you should not miss in this lifetime.
In case you are wanderlust to visit new places or listing out the best locations to travel in the world, then the list here will immensely help.
Eiffel Tower, France
The landmark of Paris and the technological wonder, Eiffel Tower is a revolution in itself. It is a symbolic architecture to see and amongst the popular tourist destination in the world. Include this in your bucket travel list if you haven't already. This old building continues to be an ideal spot to take pictures for millions of visitors.
Machu Picchu, Peru
Are you an adventure seeker? Then, consider this as a perfect destination. The Incan Ruins of Machu Picchu have left various archaeologists and historians in complete awe. This place has a unique mysterious aspect that gives a voyage experience open to debates. Also, the Temple of Suns has windows placed in a manner that sun rays come inside in irregular yet impressive angles. Besides the architectural beauty, the horror facet of the Huayna Picchu makes for the sight hard to forget.
Christ the Redeemer, Brazil
Christ the Redeemer is amongst the biggest icons of Christianity. Sculpted by Paul Landowski, this probably the best replica of Christ. It is amongst the Seven Wonders of the World and over two million visitors come here every year. It is a 98 feet tall statue of Jesus Christ and is one of the top attractions in the world. Sign yourself up for a holy experience by seeing the largest replica of Christ.
Bali, Indonesia
Sacred Monkey Forest Sanctuary, Waterbom Bali, Seminyak Beach, and Sindhu Market are amongst the few places to explore in Bali. This Indonesian Island is the heaven for travelers and seekers as it has sacred temples such as Uluwatu Temple, Tirta Empul Temple, and Jimbaran, to mention a few. This place has a lot to offer than you envisioned and you need major holiday time to have a satisfying itinerary to Bali.
Bora Bora, French-Polynesia
To experience the most ravishing art of nature, nothing could be more perfect than the Bora Bora Island. This paradisiacal island is sure to entice once you look at images on the internet. This tropical island is encircled with coral reefs, blue lagoon, small islets or Motus, spread all over the territory of Bora Bora. If you love marine life, then exploring underwater is the best thing you can do here.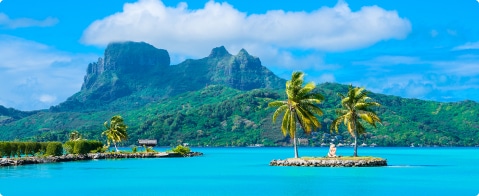 The Great Pyramid of Giza, Egypt
Egyptian pyramid is a dream of many to visit as the adventure here comes with some hardships. This place is now widely known as the best tourist destination with millions of people showing interest in exploring the Arabic regions. Built in 2500 B.C., the famous tomb that you have seen in movies and heard about in books has become the touring spot for over 14 million visitors a year. Hope you are eager to visit The Great Pyramid of Giza and have added it to your wishlist.
Great Barrier Reef, Australia
Great Barrier Reef is one of the greatest artwork miracles of nature. Spreading across the 2300 kilometers, this place is visible from outer space as well, which is quite a wonderful fact. Flora and fauna can be seen in copious amounts and it has hard to not get amazed by the astounding beauty of the ecosystem of this place. If you have been longing for a break to savor in the sunlight, then you will be blessed if you visit here. Also, never forget to take a helicopter ride to get a holistically beautiful view of this heavenly island.
Maldives, Asia
Maldives- a tropical retreat of impeccable beaches. There is nothing more peaceful than lying on the peaceful beaches of white sand with the pristine sound of the waves. Whether you want to quest for adventure or pleasure, here you find all the options. The Maldives is the perfect tourism attracting many visitors from around the world. Even the resorts here give an immaculate experience as they are tied to the beautiful beaches and sceneries.
costa Rica, Central America
Sharing its borders with Panama and Nicaragua, Costa Rica is a country of Roman Catholics. This country has a different culture, a range of wildlife, and other adventure activities worth experiencing. The traditional parks filled with flora and fauna account for the beautiful journey to get lost in. It also offers adventures such as surfing, horse riding, and all that makes for a memorable trip. Moreover, the people here, known as the Tacos, are hospitable and friendly and their warmth magnifies the beauty of your travel experience.
Santorini, Greece
Formed because of volcanic eruption, it is hard to consider this place a disaster. The astonishing views, sunsets, and beaches make it the best place for a destination wedding and travel, of course. Wineries, hiking trails, and beaches, this island has something to satisfy the travel needs of anyone who comes here. Kamari Beach, Museum of Prehistoric Thira, Ancient Thera, Gaia Winery, Hiking Trail Fira, are the places you cannot miss if you ever travel to Greece.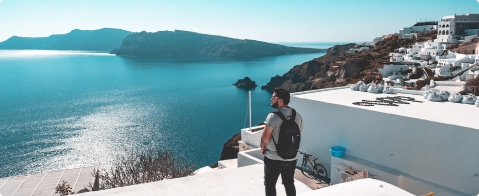 Wrapping Up
Even though the places here are listed after much research, they can still miss some beautiful destinations. Traveling to every part of the world is a dream for everyone, and the places mentioned above sure to fit best to some facets of your dream travel destinations.