Immigrating to Canada as a truck driver in 2021
Canada is a famous and an 'easy to immigrate to' destination for the immigration seeks to search for employment means. Amongst the different types of Visas in Canada, the most sought-after ones are the super visa, student visa, visitor visa, work visa, and permanent resident visa. With that being said, a work visa is important if you wish to move to the country for employment purposes.
This country has an ever-emerging need for truck drivers despite this being a short country and the number of so many internationals seeking employment options here. Canada is now seeking immigrants' help to have the truck driving employee issue resolved here. With the lack of native or resident Canadians unwilling to compensate for the shortage of truck drives, it seems a viable option for you to apply for the truck driving jobs here in Canada.
Why is truck driving a good employment option in Canada?
In Canada, millions of workers are to be introduced into the economy in the coming years. Truck driving, being an employment issue in Canada, might be the best option for you to find work in Canada as a truck driver. There is no need for any special type of Visa to migrate to Canada as a truck driver, but there is a thing called TFWP or temporary foreign worker program that allows employers to find and hire workers outside of Canada.
Becoming a long hours truck drives come with its own set of monetary and another kind of benefits in the country like Canada. What you get out of this employment option depends upon your capabilities as a truck driver and the variety of services you provide. For better salary benefits, truck driver jobs covering longer routes would provide you with better rates and diverse truck driving options. You also get work in flexible shifts and you can also choose to go on trips regarding the truck driving work. You also get to decide the work hours or the months for which you would want to work as a truck driver in Canada. The major advantage is witnessing the major attractions of the Country while employing as a truck driver; exploring the cities such as Vancouver, Toronto, and a lot more.
Here is how you immigrate to Canada as a truck driver
The procedure of immigrating to Canada is quite simple as you expect it to be as long as your familiar with the different immigration programs. Before you apply for such programs and get to work as a truck driver in Canada, there are some eligibility criteria you have to fulfill, completing which you would be able to pass the first stage of becoming an immigrant truck driver in Canada.
The prerequisites for working as a licensed truck driver in Canada-
The ability to follow a clean driving regime
A valid driving license of the native country
A clean criminal record especially concerning driving
Medical screening test with the aid of professionals
Passing a written test for working as a truck driver in Canada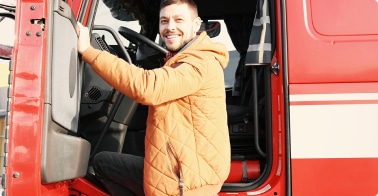 Although there are a good number of options for enrolling in the truck driving employment programs, the Temporary Foreign Worker Program is the best choice since you don't know how long you are going to stay in Canada, then entering this temporary program is an excellent option. For working as a Canadian truck driver, you have to fulfill the above eligibility requirements to even have to be considered for this program.
After fulfilling the above requirements, the employer who is hiring you as a truck driver has to extend the employer offer confirming your hiring as a truck driver. Once the employer has given you the offer, you now become completely eligible to apply for the Temporary Foreign Worker Program. If you wish for a fast process, then there is a 6-month immigration program, in order to enroll in which you have to make a profile for a system called Express Entry System. For working as a Candian employee or truck driver temporarily, there is a facility to apply online with the title- 'Expression of Interest' in your choice of the province in Canada.
Once you have applied in the special province, upon meeting the criteria, that province will ask you to apply in the Provincial Nominee Program in order to submit your application in a specific stream. This stream would have a specific title attached to it as a part of the Provincial Nominee Program. This way the path to the long-haul truck drivers for the Temporary Foreign Worker Permit is simplified. After completing these steps, you have to conform to the eligibility criteria for the province selected by you. Within a few weeks, the province would invite you or consider your application for residential purposes in that chosen province. All of this is based on the ranking and scoring system, and the better rank you get better will be your chances to get selected as a truck driver in that province.
The way to work as a Canadian truck driver is either to apply in the Temporary Foreign Worker Program or to get entry into the Express Entry Program. It is becoming easier for students and foreign visitors to get a work permit in Canada and begin working as a truck driver. The only factor important here is an employer willing to hire you and the company that you work for should be legitimate. Keep on checking the truck driver vacancies in Canada to find a good long-haul truck driving the deal.
Last thoughts
Immigrating to working in Canada is becoming easier as the years go by owing to the expanding number of workforce vacancies here. To become a permanent resident and work here, you have to apply to the programs and increase your chances of getting selected for the truck driver jobs here. You can also get expert guidance to find the best way to find the truck driver jobs that suits your needs.