Glad to know you want to immigrate to Canada as a Pharmacist. Canada has made the procedure easier considering the current situation. The steps are simple but you will have to be careful with the documents. First, let's find out can you immigrate to Canada as a Pharmacist?
Well, if you have any of the following titles then you can apply for immigrating as a pharmacist-
Clinical pharmacist; Community pharmacist; Retail pharmacist; Hospital pharmacist; Industry pharmacist; or Pharmacist.
There are 3 specific immigration programs to help pharmacists immigrate to Canada and start a new life-
1. British Columbian PNP Skills Immigration For Healthcare Professional-
As a clinical pharmacist, this would be the best option for you. Since you come under the category of healthcare professional you will have better chances to get permanent residency in the province. However, there are some specific requirements for this program. You will need to pass one of the three federal programs through Express Entry and also qualify to work in your current occupations. Furthermore, a relevant job offer from a British Columbian employer is essential for applying. So you will have to find a job in Canada before applying for immigration. Along with this, you will have to meet the minimum language criteria and have at least 2 years of work experience as a clinical pharmacist only.
2. Manitoba Provincial Nomination Program For In-Demand Occupations-
Under this program, you will need to appear for the MPNP approved language test to prove your language proficiency either in English or French. It is an immigration program that allows international skilled workers such as pharmacists to immigrate to Manitoba and work under the employers of Manitoba In-demand Occupations. In order to be eligible for the express entry system under this program, you will have to score 7 and above on the Canadian Language benchmark test for listening, reading, speaking, and writing.
3. Federal Skilled Worker (Express Entry)
You can apply under this immigration program if you have skilled work experience, required educational qualifications, and language proficiency. Your express entry application will be judged on 6 major factors including your age, adaptability, and your employment status. If you secure 67 points and above, then you will pass the assessment and will be eligible for the immigration program as a pharmacist.
You will require certain documents to apply for the EE system. The list may vary according to your occupation, country of origin, and family size but the fundamentals always remain the same. So ensure to collect the following documents before applying for immigration as a pharmacist.
Biometrics- Your biometrics verification will serve as your ID in the process.
A medication examination certificate- It should be approved by a Canadian Panel of Physician-approved doctors.
The results of language tests including Test evaluation and the International English Language Testing System.
Your Identity proof including birth records and an ID
Police Clearance Certificates
Educational Credential Assessment to verify your degree. You need this assessment only if you have graduated outside of Canada. You can get the assessment done by the permitted institute- Pharmacy Examining Board of Canada (PEBC).
After you have submitted all the required documents your application will be reviewed and you will be invited accordingly.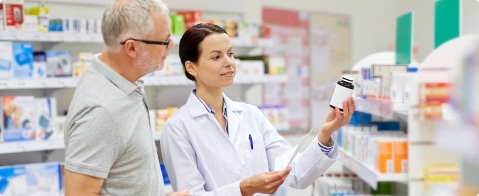 The Assessment Criteria-
Let's understand the application assessment criteria better so you are fully prepared to apply for the immigration program. So, if you pass the minimum eligibility for immigrating to Canada as a pharmacist then your application will be evaluated based on the Comprehensive Ranking System (CRS) including the following factors-
4. Language Ability
The languages you are supposed to be proficient in are English and French. In order to secure a high score in the CRS, you will need to get more than 7 scores on the Canadian Language Benchmark. You will have to take the approved test in 4 major categories- writing, speaking, listening, and reading. The combined score will help you rank better.
5. Skilled Work Experience
Skilled work experience includes three categories- technical jobs and skilled trades, professional jobs, and managerial jobs. Your application must include the details about your occupation. Remember since you are applying as a pharmacist your primary occupation mentioned under this category should also be a Pharmacist. The experience bar requires at least 1 year of continuous work which translates into 1560 hours in total. The more experience you have in your primary occupation the better will be your score.
6. Valid Job Offer-
Well, you will qualify only if you have a job offer and the ranking will be done based on the features of that offer. Is it long-term or short-term? Is it in the field of your primary occupation? And a few other parameters.
7. Adaptability
This plays a very crucial role in your application. At a glance, you might feel it's not such an important factor, but the Canadians treat is as essential. If you are not able to prove your adaptability through your application, then they might reject your application based on the fact that you won't be able to settle happily in Canada. So, take every question seriously and answer honestly.
8. Education
Your education qualification verified by the ECA will determine whether you are a suitable candidate to immigrate to Canada as a pharmacist or not. It is a skilled profession, but it requires a thorough understanding of the subject. Thus, your qualification plays an important role.
9. Age
Often people immigrate to Canada as a pharmacist but their actual plan is to retire in the country. Keeping this error in mind your age will also determine your ranking in the system.
These were some major factors considered under the CRS. If you rank high you may get the invitation for permanent residency in Canada. Remember to apply within 90 days or you will lose this opportunity.
You can select a suitable immigration program and work as a pharmacist in Canada. There is numerous advantage of being a resident in Canada such as the extended health benefits. So if you think you are eligible to immigrate to Canada as a pharmacist then start the process today. Do your research, collect the documents and prepare for the tests.