What is money?
Money is an element that can be exchanged for goods and services. Entire nations depend on money to process nation's lives smoothly. Sometimes money is considered evil sometimes it is considered heave. It all depends on the situation. The use of money can be separated in four-part; earning, spending, spending, and investing. All country's governments use their money in this manner. They save and invest to get more of what they have. It increases the growth of the country.
The Canadian Currency
In Canada, everything that is in your account or in your hands is not money. They are given different terms to not confuse them with money. The currency includes coins, notes, cashier's checks, traveler's checks, and money orders. The value of a currency depends on public demand. Public demand is influenced by the prices of services and goods. Income levels and alternative payment methods such as credit cards play an effective role as well.
The Bank of Canada
Canada banking is one of the most important industries of Canada. Banks work at a larger scale and get the most profit. The Bank of Canada is the central bank of Canada. It was established in 1935. The bank has a huge role in the economy of Canada as it regulates a large number of bank operations all over the country. The bank runs independently from the government. The government can not tell banks how to operate or meddle with the decisions they make. The bank is looked after by 14 authoritative bodies. One governor, one deputy governor, and 12 directors from different regions of the country. Having directors from all over the country allows banks to run smoothly without facing corruption and other issues.
Bank regulates the financial system.
Bank designs and issues notes.
Bank looks over monetary policy.
Bank manages funds for the government.
The bank also sees over the operations of the private banking system in the country.
Canada Banks
Royal Bank of Canada and the Toronto Dominion Bank of Canada hold the position amongst the 25 largest banks in the world. The banking system of Canada is considered the safest system in the world. During the financial crisis, Canada bore the consequences better than any other county. It did not suffer as much as other companies suffered to get back on track.
Canada put a lot of investments into its banking system. They use modern technology in all their banks which makes them more effective. According to a 2002 report Canada has the highest number of ATMs in the world. Canada gets to profit from other banking tools such as debit cards, credit cards, telephone banking, and internet banking. Due to their user-friendliness, customers put faith in the banking system. They approach banks whenever they need help. The more users approach banks the more it will gain profit. The Canadian banking system is a two-way street, both banks and customers get to benefit from it.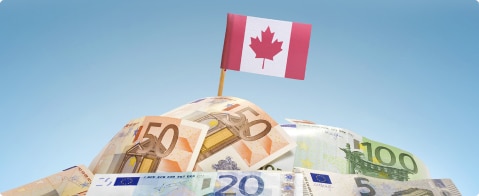 Banking System of Canada
The banking system of Canada is full-grown and regulated with strict rules. Canada's international bank is one of the leading banks in the world. They continuously get praised for their efficiency and effectiveness. On the visit to Canada, former president of US Barak Obama highly acknowledged the good management of the financial system of Canada. He also said that perhaps the Canadian banking system is better than the US's banking system. Well-recognized newspapers The Guardian and The Financial Times names the Canadian banking system "envy of the world".
The banking system of Canada can be divided into five categories.
Trust and Loan Companies
Chartered Banks
The Cooperative Credit Movement
Securities Dealers
Life Insurance Companies
With 88 banks and 5,907 branches all over the country, these five banks are referred to as the 'Big Five' banks of Canada.
Scotiabank
Toronto Dominion Bank (TD)
Royal Bank of Canada (RBC)
Bank of Montreal (BMO)
CIBC
These five banks have a large division in Canada and are operated by the main company. These five big banks hold almost the half of country's financial system assets.
More than 3000 companies offer banking services in Canada. Different companies specialize in different categories. For example, some will provide you better credit card offers and some will provide you with better home mortgages. To be the first in the competition each company tries harder and harder to provide better services to their consumers which makes them better. Even though there are varieties of services offered by other banks big five banks dominate all of them.
Some Facts About Canadian Banking System
An organization in Canada can only be called a bank when it has been authorized by the Minister of Finance.
In 2001 bank ownership rules were changed due to high competition. The banks were divided into three categories.
∙ Large- Holds more than $5 billion assets.
∙ Medium- Hold assets between $1-5.
∙ Small- Holds less than $1 billion assets.
In large banks, shares are owned widely. But individual investors can hold up to 20% voting and 30% nonvoting shares.
Popular Money Tools in Canada
Along with a wide variety of services Canada also offers tools for personal banking using electronic devices. These tools help consumers do effective banking without waiting for their turn. In a way, these tools make lives easier.
Mint- Mint is a popular and one of the oldest budgeting apps. Users can link their banking accounts such as credit card, and investment account to keep expenses under control. This app will categorize the spending of a user from every account.
PocketSmith– It collects all its user's financial information to create a status of their finances.
YNAB- YNAB allows user to track their spendings and look into saving by analyzing spending. It provides users with information about how to handle your finance better.
So if you are thinking about shifting to Canada then a good banking life is waiting for you. Do some research before opening an account in a bank. Determine your needs and look for the most suitable bank according to it.